Adios to bed bugs! Choose mattress protectors
Guide to Mattress Protection
September 15, 2020
"Ugh, you're such a pest!"
None of us deserve to sleep while muttering these words and scratching ourselves through the night, do we? When it comes to defending our homes, we use the best locks and security systems. So why not protect our beds and sanity by getting a good night's rest?
Gone are the days of stirring up homemade remedies and tiring yourself out by applying poisonous bug spray in every nook and cranny of your home. 90% of bed bugs reside on or near mattresses, and hence it's crucial to protect your mattress and nip this evil in the bud. Mattress protectors can be your savior.
Therefore, we present you with a complete guide to mattress covers. Read ahead to learn more about how these protectors can be a blessing in disguise.
What is a Mattress Protector?
As the name suggests, a mattress protector's primary purpose is to protect mattresses from mishaps such as stains, spills, and bedwetting. A mattress protector is a large, removable sheet of fabric that fully covers your bed and fits tightly around it. The protector has a zipper that traps pests inside, making it impossible for them to escape. Due to this, their blood supply is cut off, and they eventually die.
Mattress protectors help in increasing the durability of your mattress and can slow down the rate at which the internal padding materials deteriorate; giving it a 'new and fresh' feel. Protectors are essential for you to enhance your wellness and get quality sleep by sealing out allergens (like pollen), dust mites, and even bed bugs.
Mattress protectors are very different from mattress toppers. A typical mattress protector won't have padding, or a quilted appearance like a mattress topper does. A mattress topper is a thick layer of padding, typically made from memory foam, which gives users extra comfort and enhances sleep. It can be laid on top of a mattress and is held in place by bedsheets. However, a topper isn't designed to provide any real protection to your bed or mattress.
Factors to Consider Before Buying Mattress Protectors
1. Check if it's full encasement.
2. Check if it's tested.
3. Ensure it's properly sealed
4. Scour the tag to make sure it's toxin-free
Different Types of Mattress Protectors
There are various types of mattress protectors which you should consider before choosing the right one for you.
1. Zipper Mattress Protectors:
These are protectors with zipping around them, which forms a barrier, effectively removing pests and allergens out. It is also beneficial for people who are prone to tossing and turning in their sleep as it makes sure the protector stays in place through the night.
2. Fitted Mattress Protectors:
These protectors are simply tucked in like a bedsheet and a great choice for people who are short on time.
3. Waterproof Mattress Protectors:
These protectors are a huge help when you have children at home. They provide unrivalled protection against stains, spills and bedwetting due to their waterproof membranes, hence, protecting your mattress from moulds growing on them.
4. Polyurethane Mattress Protectors:
These mattress protectors are soft and waterproof, with a breathable reverse option, that doesn't interrupt your sleep with crackling sounds as other plain waterproof mattress protectors do.
5. Polypropylene Mattress Protectors:
A one of a kind mattress protector, these are lightweight and yet incredibly useful. They incorporate low moisture absorption making them moisture and stain-resistant.
Mattress Protector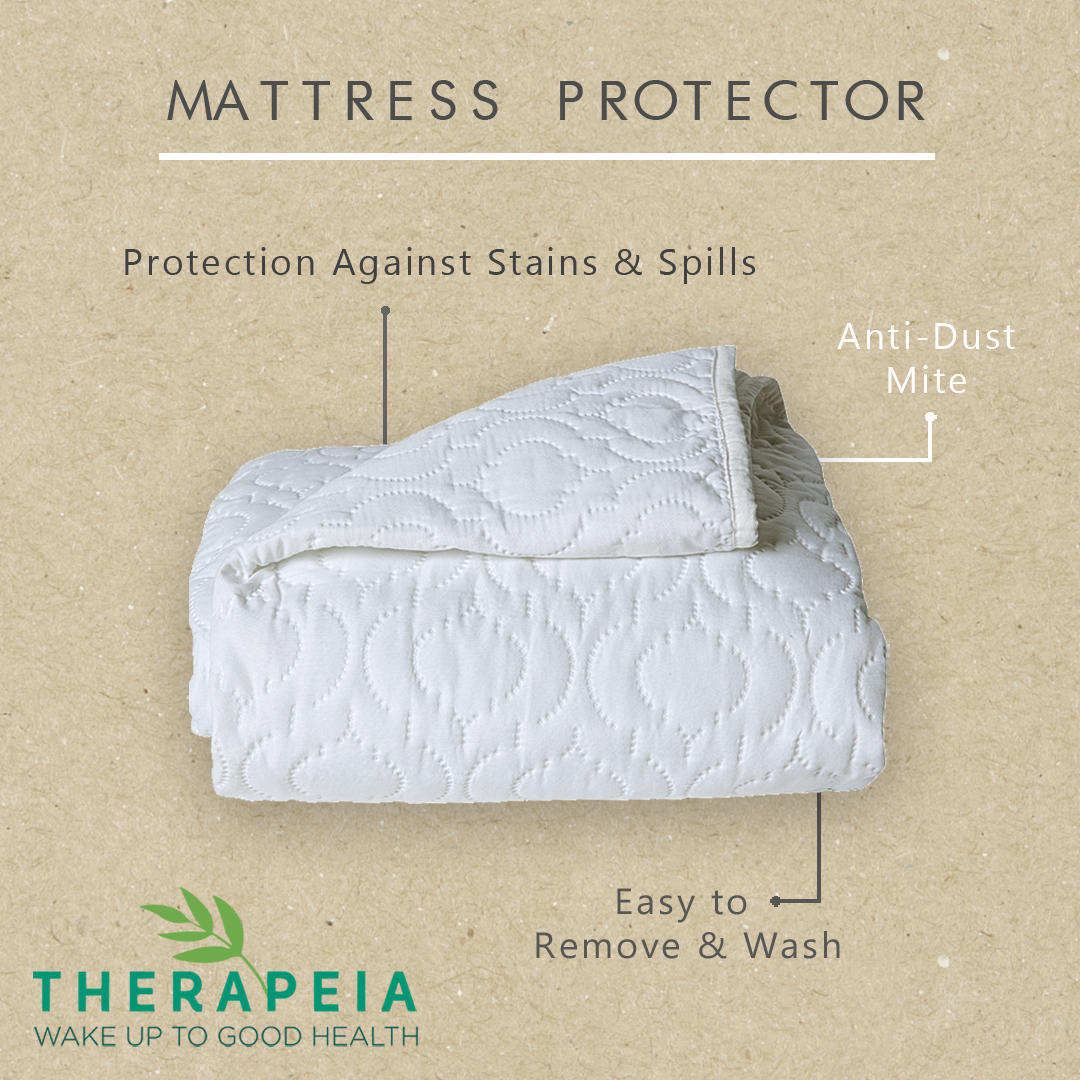 Are Bedsheets Needed When You Use a Mattress Topper or Protector?
If you're getting overwhelmed by all these different types of mattress toppers, protectors and covers and are wondering if you even need to use bedsheets, the answer is, yes. A mattress protector is for safety, and mattress toppers provide extra padding, but adding a bedsheet is essential and will ensure added comfort. Besides, it is also useful in elongating the life of your protector and topper.
For a good night's sleep, you should first use a mattress protector layered with a mattress topper then add a bedsheet and your blanket and comforter. Don't forget to top it with comfy cushions and pillow covers!
Mattress Pads
Lastly, mattress pads or mattress covers are another layer that can help in improving the life of your mattress and protect it from dust mites, allergens and bed bugs. They are made of 100% polyester and are placed above the mattress to add additional comfort. The primary purpose of this is to act as a temporary solution for support to your current, old or uncomfortable mattress.
Searching for some good-quality mattress protectors online? Check out our range at Portico - Mattress Protectors. Give your mattress the protection it deserves.